It's Show Time!
If you want to join us, you can still enter at the show! Download the complete premium (PDF).
Host Hotel: Fairfield Inn & Suites by Marriott
10745 Gold Center Drive Rancho Cordova, CA 95670
Phone: (916) 858-8680
Area VII has negotiated a special rate for our exhibitors. Make your reservation by contacting the hotel directly and mentioning Area VII to get the special group rate of $89 single or double plus tax.
Exhibitors' Dinner: We hope you'll make plans to join us at the Exhibitors' Dinner on Saturday evening from 6:30 pm–8:30 pm. The charge is only $10/person, and the menu includes grilled chicken, linguini alfred, salad, dessert, and drinks. This event will be catered by the Murieta Cafe, and is sponsored by Area VII and Heidi Jensen Arao.
We Need You!
Please Renew Your Membership
Our members are our most valuable resource. Renewing is easy! Just download the membership renewal form (PDF) and send it with your payment to the address on the form.
New Members Welcome!
Area VII needs you! Download the membership form for new members (PDF) and send it with your payment to the address on the form.
Questions? Call Michele Nelson at (510) 326-6487, or email membership@areaviiclub.com.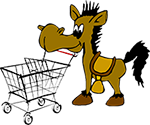 Buying or Selling?
Area VII Members
Advertise your horses, ponies, equipment, etc. on our For Sale pages. 100 words and a photo, only $5 for 3 months.
Thanks to our 2017 Sponsors
Pat and Linda Anastasio, Bellota Miniatures
Gail Byrnes, A&G's Mini Dreamcatcher
Susan Browning-Wroe, Ravenstar Farm
Christine and Emma Caringello, Caringello Farms
Kathy Courtney and Annabelle Courtney Pisarski, Red Star Ranch
Jacob Elliott and Richard Erickson, Double E Ranch
Dennis and Jan Haney, Half Measures Miniature Horse Ranch
Jean M. Hayunga, Black Mountain Miniatures
Erin Henson, Ranchland Acres
Suzette Hutchins, Just a Lil Ranch
Heidi Jensen Arao, Faerie Glen Pony Farm
Janice L. Kieler, Big Leap Ranch
Jim and Vicki Killfoil, Lost Spur Ranch
Loomis Basin Equine Medical Center
Yvonne, Cathy, and Ashley Lowas, Riverwillows Farm
Ken and Julie Mabie, Whisper Equestrian Center
Mark and Michele Nelson
Charlene Palmer, JCP
Maxine Richey, Double E Ranch
Kim and Steve Sterchi, Sierra Ranch
Nancy Turner, Tomahawk Ranch
Cynthia Villarimo, Kai Moore, and Mary Villarimo Gilligan,
Redwood Acre Ranch
Area VII Club Video
Note: If you do not see the video frame below, you need to install Adobe Flash player, or use this link
Many thanks to Larry Connolly and John Killacky.
© 2009 Larry Connolly