The premium is now available!
Download the complete premium (PDF).
See the California Classic 2017 Web page for more details and sponsorship information.
Spring Newsletter Cancelled
Sadly, for the first time since I became Newsletter Editor in 2006, I have found it necessary to cancel an issue due to lack of contributions. Thanks to those of you who took the time and made the effort to contribute, your support is deeply appreciated.
The next newsletter will be the Summer issue. The deadline for contributions will be Sunday, May 21, and the issue will be mailed in early June.
—Michele Nelson, Newsletter Editor
We Need You!
Please Renew Your Membership
Our members are our most valuable resource. Renewing is easy! Just download the membership renewal form (PDF) and send it with your payment to the address on the form.
New Members Welcome!
Area VII needs you! Download the membership form for new members (PDF) and send it with your payment to the address on the form.
Questions? Call Michele Nelson at (510) 326-6487, or email membership@areaviiclub.com.
Welcome New Members
Erin Hensen of Redding
Charlotte Woods of Mokelumne Hill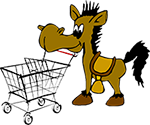 Buying or Selling?
Area VII Members
Advertise your horses, ponies, equipment, etc. on our For Sale pages. 100 words and a photo, only $5 for 3 months.
Thanks to our 2017 Sponsors
Pat and Linda Anastasio • Gail Byrnes • Christine and Emma Caringello • Jacob Elliott and Richard Erickson • Dennis and Jan Haney • Jean M. Hayunga • Vicki and Jim Killfoil • Yvonne, Cathy, and Ashley Lowas • Ken and Julie Mabie • Mark and Michele Nelson • Charlene Palmer • Maxine Richey • Nancy Turner • Cynthia Villarimo, Kai Moore, and Mary Villarimo Gilligan
Area VII Club Video
Note: If you do not see the video frame below, you need to install Adobe Flash player, or use this link
Many thanks to Larry Connolly and John Killacky.
© 2009 Larry Connolly