Area VII is an ASPC/AMHR/ASPR registered and recognized club that is primarily active in California, though our area encompasses California, Nevada, Arizona, and Hawaii. Our membership includes owners of both ASPC Shetlands and AMHR Miniature Horses.
Area VII welcomes members from all over—and you do not need to own a mini or pony to join. [read more]
Fall Newsletter Deadline: Friday, August 25
Please contribute! We need your news, photos, and advertising. Ranch/Member News is for Area VII members only, but everyone is welcome to advertise. Ad rates and specs are available on the Newsletter page.
Send your contributions to: Michele Nelson
5619 Market Street, Apt. B, Oakland 64608
(510) 326-6487
michelenelson@nelsonpics.com
Santa Cruz County Fair Pony Show (ASPC/AMHR)
Come to the fair! The annual pony show at the Santa Cruz County Fair offers a full class list for Classic Shetlands, performance classes for AMHR miniature horses, and also classes for open ponies under 48".
The deadline for entries is Friday, September 8.
Download the premium (PDF) and make your plans to join us at the fair!
Need more information? Contact: Julie Mabie, (831) 684-1555
SAVE THE DATE!
California Classic 2018
April 21–22, 2018
Murieta Equestrian Center, Rancho Murieta, CA
Welcome New Members
Erin Hensen of Redding

Charlotte Woods of Mokelumne Hill

Maryan Baker of Rancho Mirage

Don, Jinnohn, and Bethany Silveira of Escalon

Gretchen Kingsbury of Sutter Creek
See our current membership list
Membership
New Members Welcome!

Area VII needs you! Download the membership form for new members (PDF) and send it with your payment to the address on the form.

Renew Your Membership

Our members are our most valuable resource. Renewing is easy! Just download the membership renewal form (PDF) and send it with your payment to the address on the form.
Questions? Call Michele Nelson at (510) 326-6487, or email membership@areaviiclub.com.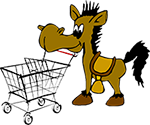 Buying or Selling?
Area VII Members
Advertise your horses, ponies, equipment, etc. on our For Sale pages. 100 words and a photo, only $5 for 3 months.
Thanks to our 2017 Sponsors
Pat and Linda Anastasio, Bellota Miniatures
Gail Byrnes, A&G's Mini Dreamcatcher
Susan Browning-Wroe, Ravenstar Farm
Christine and Emma Caringello, Caringello Farms
Kathy Courtney and Annabelle Courtney Pisarski, Red Star Ranch
Jacob Elliott and Richard Erickson, Double E Ranch
Dennis and Jan Haney, Half Measures Miniature Horse Ranch
Jean M. Hayunga, Black Mountain Miniatures
Erin Henson, Ranchland Acres
Suzette Hutchins, Just a Lil Ranch
Heidi Jensen Arao, Faerie Glen Pony Farm
Janice L. Kieler, Big Leap Ranch
Jim and Vicki Killfoil, Lost Spur Ranch
Loomis Basin Equine Medical Center
Yvonne, Cathy, and Ashley Lowas, Riverwillows Farm
Ken and Julie Mabie, Whisper Equestrian Center
Mark and Michele Nelson
Charlene Palmer, JCP
Penny Radulovich, Radulovich Farms
Maxine Richey, Double E Ranch
Kim and Steve Sterchi, Sierra Ranch
Nancy Turner, Tomahawk Ranch
Cynthia Villarimo, Kai Moore, and Mary Villarimo Gilligan,
Redwood Acre Ranch
Area VII Club Video
Note: If you do not see the video frame below, you need to install Adobe Flash player, or use this link
Many thanks to Larry Connolly and John Killacky.
© 2009 Larry Connolly